ALERT!!!
Panjab University (Established in 1882) is a Central and State Governments Funded University located in Chandigarh.
Panjab University is not related at all to Chandigarh University which is a private university and located in Distt Mohali, Punjab about 25 Kms from Chandigarh.
No official of Panjab University or Admission Cell is giving any call to the prospective candidate for seeking admission to PU or for submitting admission fee etc.
For admission to PU, kindly visit only the official webpage of PU which is: puchd.ac.in
Quick Facts
Established in 1882 as University of Punjab at Lahore (now in Pakistan).
Panjab University has been Accredited with a CGPA of 3.35 on a four-point scale at A Grade valid upto 24/06/2022.
2nd Rank in the Atal Ranking of Institutions on Innovation Achievements (ARIIA) amongst Indian Universities declared by Ministry of Education, Govt. of India in 2020
Ranked 4th amongst Indian institutes/ universities by International Ranking Agency, the Times Higher Education (WUR) in 2019-2020
Won the prestigious Maulana Abul Kalam Azad (MAKA) Trophy for best all-round performance in sports among Indian Universities for continuous two years in succession 2018-19 and 2019-2020
University campus is spread over an area of 550 acres (2.2 km2) in sectors 14 and 25 of the city of Chandigarh.
University has 78 teaching and research departments and 15 Centers/Chairs for teaching and research at the main campus located at Chandigarh.
University has 188 affiliated colleges spread over Punjab and having one rural Regional Centre at Kauni, and 3 Regional Centres at Muktsar, Ludhiana and Hoshiarpur.
University has 6 Constituent Colleges located at Sikhwala (Sri Muktsar Sahib), Balachaur (SBS Nagar), Nihalsingh Wala (Moga), Dharamkot (Moga), Mokham Khan Wala (Ferozepur) and Guru Harsahai (Ferozepur).
Mission of the University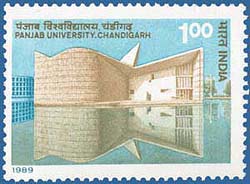 Stamp issued on 19 May 1989
"The University has been incorporated for the purpose, among others, of making provision for imparting education in Arts, Letters, Science and the learned professions and of furthering advancement of learning, the prosecution of original research, with power to appoint University Professors, Readers and Lecturers, to hold and manage educational endowments, to erect, equip and maintain University colleges, libraries, laboratories and museums, to making regulations relating to the residence and conduct of students and to do all such acts as tend to promote study and research". PU Profile...
---
Enquiry No(s): 1800-180-2065, +91 172 2534818, 2534866 (from 9:30 am to 1:00 pm & 2:30 pm to 5:00 pm on working days )